Water Sports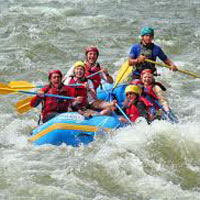 Uttarakhand is brimming with many free and quirky rivers that lure the tourists to indulge in exhilarating water rafting activities. Since Uttarakhand is a swooning area, the rivers adapt the downward slopping characteristics and flow adamantly in fast pace traversing the rocky terrains, mountains and mesmerizing snowy areas. Some of the popular rivers of the area are Yamuna, Ganga, Bhagirathi, and Alaknanda. The state is very popular for white water rafting and the equipment for the sport can be easily arranged from any rafting agency operating in the state.

Water Rafting in Garhwal
Garhwal is expounded explicitly by river Ganga, where the tourists can enjoy water rafting profusely. To promote the sport, the Uttarakhand tourism has also established a water sport resort called Asan Barrage, Dakpathar in the district of Dehradun.

Water Rafting in Kumaon
Kumaon prides itself for having the flowing Sharda River, treading from the superficies of the Nepal border. The Sharda River conjoins with the Jori River at Jauljibi, and changes into an ideal watery trove for the rafting sports lovers to come and enjoy.