About Dharamshala
Engulfed by the conifer and oak tress and lofty mountains, Dharamshala hill station nestles proudly on Dhauladhar range. The sparkling mountains flank the town from three sides and the valley protudes form the front. Both aurora and dusk in the valley and town are beautiful and rejuvenates the dampen spirits instantly. Dharamshala is also the well-known headquarters of Kangra district. There are various tourist attractions in the hill station that keep on luring the tourists from around the globe.

The Dal Lake flows up to 11 km straight from the Lower Dharamshala. The lake is also expounded for being the starting point from where the trekking takes place. It is a scenic spot and is being encompassed by beautiful Deodar jungles. There is also a famous temple named Durveshwar Mahadev situated here and the tourists can also be part of the annual fair held in the month of September. The Following are the main attraction of Dharamshala:-
Chinmaya Tapovan
Chinmaya Tapovan is a modern day ashram situated at the foothills of the majestic Dhauladhar ranges of the Himalayas. Situated on the banks of Bindu Saras, the ashram was founded by late Swami Chimayananda.

The ashram complex has a 9 m high image of Lord Hanuman, a Ram temple, a meditation hall, a school, and a health and recreation center. A nine foot high statue of My great Lord Hanuman stands at the gate, spreading his special message of loyalty and bravery. A mini forest of pine trees, which is a few hundred yards away, is a very good picnic spot with absolutely no noise around.
McLeodganj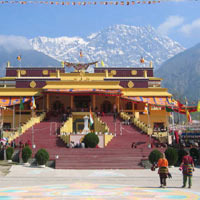 McLeodganj is located close to the famous Dharmshala in Himachal Pradesh. McLeodganj is the headquarters of the Tibetan government in exile, and home of the 14th Dalai Lama, Tenzin Gyatso. Camping is indeed the best way of enjoying the wonders of nature and the warmth of people. Mcleodganj is often called the 'Little Lhasa'.

All this makes McLeodganj is a colourful little town, a perennial den of tourists – a place you can chill out in and do your own thing. While you stop to wonder at a Tibetan trinket or a shawl, you'll realize that your stomach is involuntarily responding to the lovely smell of wantons wafting from a nearby joint.
Dal Lake
The sacred Dal lake with natural water body is 11km from Lower Dharamshala connected by motorable road. It is the starting point of excursions and trekking and is located next to the Tibetan Children's village. The lake is a scenic picnic spot surrounded by the forests of Deodar. There is a temple of Durveshwar Mahadev by the side of the lake. A colourful annual fair is held every september on the ady of Radhaashtami. Dal lake is spot of religious importance, besides, a place of tourist attraction.

Further, 1.5 km from Dal, is a scenic spot of Naddi offering a clear view of Kangra valley and Dhauladhar peaks. It is connected with road and is famous as sunset point. Naddi is also a staring point for trek to Kareri Lake, Guna Devi temple and Triund.
Jwalamukhi Temple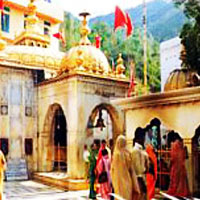 Jwalamukhi Temple is situated 30 km south of Kangra valley. It is dedicated to Goddess Jwalamukhi. There are natural flames in the temple which are worshipped as a manifestation of the nine Goddesses - Mahakali, Unpurna, Chandi, Hinglaj, Bindhya Basni, Maha Lakshmi, Saraswati, Ambika and Anji Devi.

These flames burn continuously without any fuel or assistance and may be seen erupting from a rock-side. Ancient legends speak of a time when demons lorded over the Himalaya mountains and harassed the gods. Led by Lord Vishnu, the gods decided to destroy them. They focused their strengths and huge flames rose from the ground. From that fire, a young girl took birth. She is regarded as Adishakti-the first 'shakti'.